Explore your backyard
Want to enjoy the thrill of the machine and a sense of discovery as you venture through some of New Zealand's most stunning scenery? Experience the freedom and fresh air as you trailblaze 'round some of the country's best off-road trails.
Where these 2-seater 2 X 4 buggies can take you is amazing! They drive like a car… a mud-hungry, trail-ripping, bump-eating, puddle-slurping, hill-climbing car! Our Off-Road Karts roll cage and seatbelts etc. are designed with the highest level of safety in mind. These machines offer an incredibly stable feel; sturdy handling with great traction and automatic gearing, you will find them easy to get to grips with.
We can provide the machine, all you have to do is turn the key.
---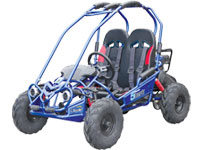 Mini Shark
The Mini Shark is a dual-seater, off road cruising machine, powered by a 4-stroke engine. It has independent suspension, alloy wheels, and adjustable pedals so your child can continue to drive it as they grow...
More Info
---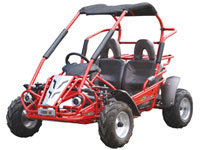 GK80
Designed exclusively for young kids aged 7-15, its sporty frame, enclosed side panels, aluminium wheels, and bikini top make the 80 Twin a dream to look at and drive...
More Info
---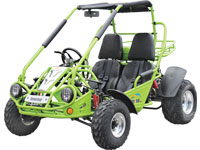 GK150
The 150 Twin has a fully automatic, electric start four stroke motor that impresses with its power output. The 150 Twin also offers an incredible 150mm of adjustable front and rear suspension for keeping all 4 wheels in the dirt...
More Info
---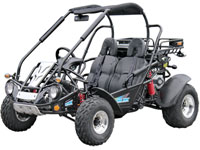 GK300
The 300 Twin is the big daddy of the range, with a 17.5 HP, 4-stroke water-cooled engine, and twin bucket seats for twice the fun. The 300 Twin has a fully automatic electric start, with independent adjustable front and rear suspension...
More Info
---